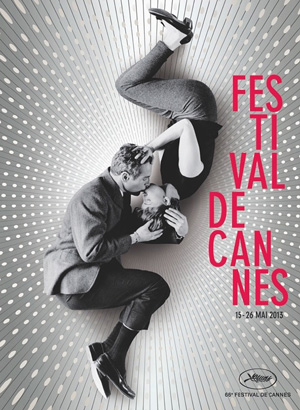 Plume Noire couvrait la la 66ème édition du Festival de Cannes, du 15 mai au 26 mai. Découvrez en exclusivité nos critiques ainsi que le blog du festival, en direct de la croisette.
Sous la présidence du réalisateur américain Steven Spielberg (Lincoln), le jury du festival incluait l'actrice australienne Nicole Kidman (The Paperboy), l'acteur autrichien Christopher Waltz (Django Unchained), l'acteur français Daniel Auteuil (Caché), l'actrice indienne Vidya Balan (Kahaani), le cinéaste taiwanais Ang Lee (Life of Pi), le réalisateur japonais Naomi Kawase (Hanezu), le cinéaste roumain Christian Mungiu (Au-delà des collines) et la réalisatrice britannique Lynne Ramsay (We Need to Talk About Kevin ).
Le réalisateur Danois Thomas Vinterberg (The Hunt) était le président du jury pour Un Certain Regard.
L'affiche officielle (à droite) représente les acteurs – mari et femme – Paul Newman et Joanne Woodward.
L'actrice Audrey Tautou officiait en tant que maîtresse de cérémonie du festival, présentant les cérémonies d'ouverture et de clôture.
LE PALMARES
Compétition Officielle
Palme d'Or : La Vie d'Adèle
Grand Prix : Inside Llewyn Davis, Joel and Ethan Coen, U.S.A.
Prix du Jury : Tel père tel fils, Hirokazu Koreeda, Japan
Prix de la Mise en Scène : Amat Escalante, Heli, Mexico
Prix du Scénario : Jia Zhangke, A Touch of Sin, China
Prix d'interprétation masculine : Bruce Dern, Nebraska, U.S.A.
Prix d'interprétation feminine : Bérénice Bejo, Le Passé, France
Un Certain Regard
Prix Un Certain Regard : The Missing Picture
Prix du Jury : Omar
Prix de la Mise en Scène : Stranger by the Lake
Prix du Talent : The Cage of Gold
Semaine de la Critique
Prix du Grand Jury : Salvo
Prix France 4 : Salvo
Prix du Scénario : Le Démentelement
Prix du Court : Come and Play
Prix Canal+ : Pleasure
Quinzaine des Réalisateurs
Prix du Cinéma d'Art : Les garçons et Guillaume, à table
Mention Spéciale : Tip Top
Cinéfondation
Premier Prix : Needle
Deuxième Prix : Waiting for the Thaw
Troisième Prix ex-aequo: In Acvariu, Unatc
Troisième Prix Joint: Pandy, Famu
Voici la liste des films présentés pendant le festival :
EN COMPETITION
Behind the Candelabra (critique de Ma Vie avec Liberace) – Steven Soderbergh
Borgman (critique de Borgman) – Alex Van Warmerdam
Grisgris – Mahamat-Saleh Haroun
Heli (critique de Heli) – Amat Escalante
Inside Llewyn Davis (critique de Inside Llewyn Davis) – Joel and Ethan Coen
Jimmy P (critique de Jimmy P.) – Arnaud Desplechin
Jeune et jolie – (critique de Jeune et jolie) – Francois Ozon
La Vie D'Adele (critique de La Vie d'Adèle) – Abdellatif Kechiche
Michael Kohlhaas (critique de Michael Kohlhaas) – Arnaud des Pallières
Nebraska (critique du film Nebraska) – Alexander Payne
Only God Forgives (critique de Only God Forgives) – Nicolas Winding Refn
Straw Shield – Takashi Miike
The Great Beauty (critique de La Grande Bellezza) – Paolo Sorrentino
The Immigrant (critique de The Immigrant) – James Gray
Le  Passé (critique du Passé) – Asghar Farhadi
Tel père tel fils (critique de Tel père tel fils) – Kore-Eda Hirokazu
Tian Zhu Ding (critique de A Touch of Sin) – Zhangke Jia
Un Château en Italie (critique de Un Château en Italie)– Valeria Bruni-Tedeschi
Venus in Fur (critique de La Vénus à la fourrure) – Roman Polanski
FILM D'OUVERTURE
The Great Gatsby 3D (critique de Gatsby le magnifique) – Baz Luhrmann
FILM DE CLOTURE
Zulu – Jérôme Salle
HORS COMPETITION
Blood Ties – Guillaume Canet
All is Lost – J.C. Chandor
SEANCES DE MINUIT
Blind Detective – Johnnie To
Monsoon Shootout – Amit Kumar
SEANCES SPECIALES
Max Rose – Daniel Noah
Muhammad Ali's Greatest Fight – Stephen Frears
Otdat Konci – Taisia Igumentseva
Seduced and Abandoned – James Toback
Stop the Pounding Heart – Roberto Minervini
Weekend of a Champion – Roman Polanski
UN CERTAIN REGARD
Anonymous – Mohammad Rasoulof
As I Lay Dying – James Franco
Bends – Flora Lau
Death March – Adolfo Alix Jr.
Fruitvale Station – Ryan Coogler
Grand Central – Rebecca Zlotowski
La Jaula de Oro – Diego Quemada-Diez
Les Salauds – Claire Denis
L'Image Manquante – Rithy Panh
L'inconnu De Lac – Alain Guiraudie
Norte, Hangganan Ng Kasaysayan – Lav Diaz
Omar – Hany Abu-Assad
Sarah Prefere La Course – Chloe Robichaud
The Bling Ring (critique de The Bling Ring) – Sofia Coppola
SEMAINE DE LA CRITIQUE
For Those in Peril – Paul Wright
Le Démantèlement – Sébastien Pilote
Les Rencontres d'après minuit – Yann Gonzalez
Les Amants du Texas – David Lowery
Los Dueños – Agustin Toscano & Ezequiel Radusky
Nos héros sont morts ce soir – David Perrault
Salvo – Fabio Grassadonia & Antonio Piazza
Suzanne – Katell Quillévéré
The Lunchbox – Dabba Ritesh Batra
The Major – Yury Bykov
QUINZAINE DES REALISATEURS
A Strange Course of Events – Raphaël Nadjari
El Verano de los Peces Voladores – Marcela Said
Ate Ver a Luz – Basil Da Cunha
Blue Ruin – Jeremy Saulnier
Henri – Yolande Moreau
Ilo Ilo – Anthony Chen
Jodorowsky's Dune – Frank Pavich
Last Days on Mars – Ruairi Robinson
L'Escale – Kaveh Bakhtiari
La Danza de la Realidad – Alejandro Jodorowsky
La Fille du 14 Juillet – Antonin Peretjatko
Les Apaches – Thierry de Peretti
Les Garçons et Guillaume, à Table! – Guillaume Gallienne
Magic Magic – Sebastian Silva
On the Job – Erik Matti
The Congress – Ari Folman (opening film)
The Selfish Giant – Clio Barnard
Tip Top – Serge Bozon
Ugly – Anurag Kashyap
Un Voyageur – Marcel Ophuls
We Are What We Are – Jim Mickle
CINEFONDATION
After The Winter – Jow Zhi Wei
Asuncion – Camila Luna Toledo
Babaga – Gan De Lang
Danse Macabre – Małgorzata Rzanek
Duet – Navid Danesh
Exile – Vladilen Vierny
Fable Of A Blood – Drained Girl – Alejandro Iglesias Mendizabal
Going South – Jefferson Moneo
Ham Story – Eliška Chytkova
In The Fishbowl – Tudor Cristian Jurgiu
Needle – Anahita Ghazvinizadeh
Pandas – Matúš Vizar
Stepsister – Joey Izzo
The Line – Kim Soo-Jin
The Magnificent Lion Boy – Ana Caro
The Norm Of Life – Evgeny Byalo
Tomorrow All The Things – Sebastián Schjaer
Waiting For The Thaw – Sarah Hiritt
COURTS-METRAGES
37°4 S – Adriano Valerio
Condom Lead – Mohammed Abou Nasser, Ahmad Abou Nasser
Mont Blanc – Gilles Coulier
More Than Two Hours – Ali Asgari
Olena – Elzbieta Benkowska
Ophelia – Annarita Zambrano
Safe – Moon Byounggon
The Meteorite And Impotence – Sasaki Omoi
Whale Valley – Gudmundur Arnar Gudmundsson
The following two tabs change content below.

Moland Fengkov
Moland est le représentant officiel de Plume Noire au festival de Cannes. Outre sa passion du cinéma, il est photographe professionel et journaliste freelance.

Latest posts by Moland Fengkov (see all)