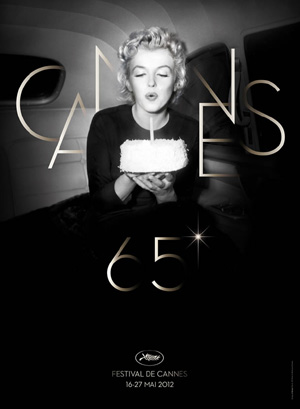 La 65ème édition du Festival de Cannes se déroulait du 16 au 27 mai sur la croisette.
>> Consulter le blog du festival de Cannes pour voir nos photos, lire nos éditos et la récap du festival.
Le président du jury était le réalisateur italien Nanni Moretti qui avait gagné la Palme d'or en 2001 pour le film La Chambre du Fils. Le jury  incluait ausi l'actrice/réalisatrice Hiam Abbass, le scénariste/réalisateur Andrea Arnold, l'actrice Emmanuelle Devos, l'actrice Diane Kruger, le couturier Jean Paul Gaultier, l'acteur Ewan McGregor, le scénaristse/réalisateur Alexander Payne et le scénaristse/réalisateur Raoul Peck.
PALMARES
Voici le palmarès du festival:
Palme d'Or : Amour* (Michael Haneke)
Grand Prix : Reality (Matteo Garrone)
Réalisateur : Carlos Reygadas, Post tenebras, lux*
Prix du Jury : The Angels' Share* (Ken Loach)
Acteur : Mads Mikkelsen, La Chasse*
Actrice: (Aex Equo) Cristina Flutur et Cosmina Stratan, Au-delà des collines*
Scénario: Cristian Mungiu, Au-delà des collines*
*lire nos critiques ci-dessous.
Voici la liste des films présentés au festival ainsi que nos critiques:
EN COMPETITION
Im Nobel (Dans La Brume) (critique de Dans la Brume) – Sergei Loznitsa
La chasse (critique de La Chasse) – Thomas Vinterberg
Paradis : Amour (critique de Paradis : Amour) – Ulrich Seidl
On the Road  (critique de On the road) – Walter Salles
Post Tenebras Lux (critique de Post Tenebras Lux)– Carlos Reygadas
Vous n'Avez Encore Rien Vu (critique de Vous n'Avez Encore Rien Vu)– Alain Resnais
Mud (critique de Mud) – Jeff Nichols
Baad El Mawkeaa (Apres La Bataille) (critique de Après la Bataille)– Yousry Nasrallah
Au-delà des collines (critique d' Au-delà des collines) – Cristian Mungiu
The Angel's Share (critique de The Angel's Share)– Ken Loach
Like Someone in Love (critique de Like Someone in Love) – Abbas Kiarostami
Taste of Money (critique de L'Ivresse de l'Argent)– Im Sangsoo
In Anothe Country  (critique de In Another Country) – Hong Sangsoo
Lawless(critique de Lawless) – John Hillcoat
Amour (critique d'Amour)– Michael Haneke
Reality – Matteo Garrone
Killing Them Softly (critique de Cogan) – Andrew Dominik
The Paperboy (critique de Paperboy)– Lee Daniels
Cosmopolis (critique de Cosmopolis) – David Cronenberg
Holy Motors (critique de Holy Motors) – Leos Carax
De Rouille et d'Os (critique de De Rouille et d'Os) – Jacques Audiard
FILM D'OUVERTURE
Moonrise Kingdom (critique de Moonrise Kingdom)– Wes Anderson
FILM DE CLOTURE
Therese D – Claude Miller
HORS COMPETITION
Une Journee Particuliere – Gilles Jacob and Samuel Faure
Madagascar 3: Europe's Most Wanted – Eric Darnell – Tom McGrath
Dario Argento's Dracula – Dario Argento
Io E Te – Bernardo Berolucci
Hemingway & Gellhorn – Philip Kaufman
Ai To Makoto – Takashi Miike
SEANCES SPECIALES
Der Mull Im Garten Eden – Faith Akin
Mekong Hotel – Apichatpong Weerasethakul
Villegas – Gonzalo Tobal
A Musica Segundo Tom Jobim – Nelson Pereira Do Santos
Journal De France – Claudine Nougaret, Raymond Depardon
Les Invisibles – Sebastien Lifshitz
The Central Park Five – Ken Burns, Sarah Burns, David McMahon
Roman Polanski: A Film Memoir – Laurent Bouzereau
UN CERTAIN REGARD
Miss Lovely – Ashim Ahluwalia
La Playa – Juan Andres Arango
Les Chevaux De Dieu – Nabil Ayouch
Trois Mondes – Catheron Corsini
Antiviral – Brandon Cronenberg
7 Days In Havana – Benicio Del Toro – Laurent Cantet – Gaspar Noe – Elia Suleiman
Le Grand Soir – Benoit Delepine & Gustave Kervern
Laurence Anyways – Xavier Dolan
Despues De Lucia – Michel Franco
Aimer A Perdre La Raison – Joachim Lafosse
Mystery – Lou Ye
Student – Darezhan Omirbayev
La Pirogue – Moussa Toure
Elefante Blanco – Pablo Trapero
Confession Of A Child Of The Century – Sylvie Verheyde
11.25: The Day He Chose His Own Fate – Koji Wakamatsu
Beasts Of The Southern Wild – Benh Zeitlin
The following two tabs change content below.

Moland Fengkov
Moland est le représentant officiel de Plume Noire au festival de Cannes. Outre sa passion du cinéma, il est photographe professionel et journaliste freelance.

Latest posts by Moland Fengkov (see all)